Overview
Arc De Bijoux is a small independent retailer based in Troon in Scotland. It is founded by Christine Law and after spending 20 years in either customer service or retail she decided a change in pace and lifestyle would be her dream.
She decided in 2006 to move to the sunny south west of France. She then decided to start a jewellery shop on the open markets in all that glorious sunshine.
She never truly climatized to the weather and all the French paperwork, so in 2014 she moved back to her husband's home territory in the beautiful Ayrshire seaside. This time her dreams did come true when she opened shop in the beautiful coastal town of Troon. What originated as a small market stall has grown year on year.
Discovery
With Arc De Bijoux, We spoke at length about the requirements for the E-Commerce site that was going to be built. we needed to know the in-store payment provider to make sure that we could use that a merchant for the online store capacity, We also needed to know the products they were going to be selling to build the best baseline for the site to be built on.
Aside from that, we spoke at length of the key objectives and they were to sell products nationally and not be restricted to just local shop selling. We also found the long term objective was the same as most businesses now with COVID-19 to move from a physical store to a more online warehouse type of model, In turn saving more revenue in the business.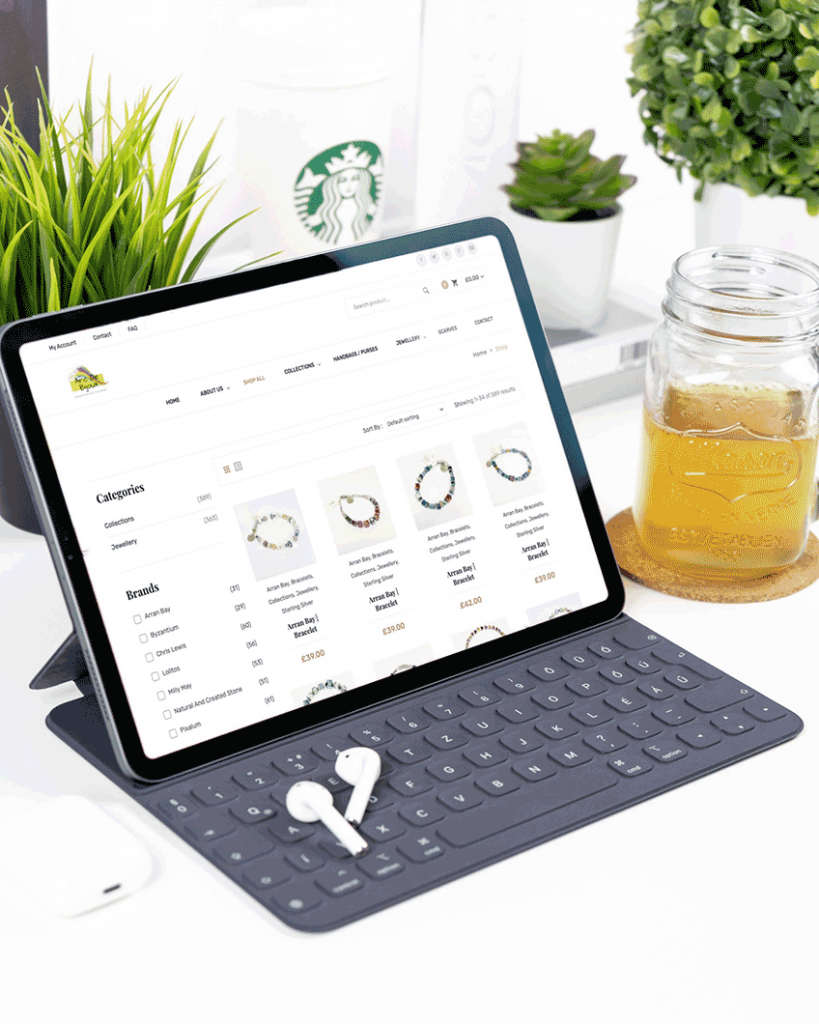 Build
Using a wealth of white space and blocked layout, our designs allows all the visitor's eyes to breathe and then focus in on the most important elements on the page. At the same time, the product pages are intentionally designed to have loads of information into a small package by providing detailed information to those who are looking for it while prioritising leading visitors into the checkout flow and towards conversion.
In terms of development, we used WordPress and WooCommerce e-commerce platform as the foundation for our site giving Christine the best feel for updating etc.. and for ease of use, and built out the custom designs and functionality we needed on top of it.
For collecting payments Arc De Bijoux had a In Store Merchant already called world-pay so that was perfect for implementing into the main website as an Online Merchant.
With so many different platforms and 3rd party API integrations, it took a lot of work to connect everything together and thoroughly test that the connections were passing along the correct information, but we were able to build out this custom Payment provider E-Commerce solution successfully for Arc De Bijoux
Test & Launch
Once the site was coded and the payment collection process was integrated, we needed to be sure it was all working properly. We conducted extremely thorough testing of the payment flow to ensure the site, the payment gateway, and payment processor were connected properly.
Once that was done, we tested the rest of the content management system (CMS) to guarantee that new content could easily be added in the future by means of spreadsheet or single product upload so Christine was able to easily manage the site once it launched. Once we were confident that the new site was functioning properly and processed payments as it should, we launched the site!
Final Thoughts
With a modern mobile friendly and serenely designed e-commerce website, Christine now has a robust platform to be able to sell their in person and now online. Leveraging the streamlined backend from WordPress, the site is set up for ease of use for all, whether that is front end users buying or Christine managing stock and sales.